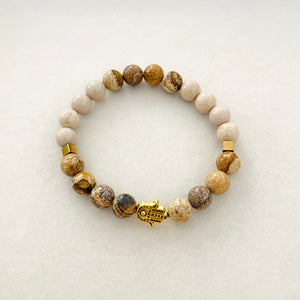 Omen Bazaar
Ultimate Happiness - Picture Jasper, White Fossil Jasper, Hematite, Eye - Gemstone Bracelet
Regular price
$35.00
$0.00
Unit price
per
Spiritual Beads Gemstone Stretch Bracelet
"Ultimate Happiness"
8mm Picture Jasper, White Fossil Jasper, Hematite, Eye
Picture Jasper: It is used to awaken your creativity and initiative. It gives you joyful energies that helps to bring you comfort and peace. It also brings luck in all business pursuits.
White Fossil Jasper: It promotes tranquility and alleviates stress. It stimulates the imagination and brings determination. It is the ultimate spiritual guide for your true path.
Hematite: It is used for grounding and balancing in your life. As soon as the Hematite touches the skin, you'll feel more centered and calm with its intense vibrations. It activates the root chakra that anchors us to the earth.
Hamsa: Protection against bad spirits.
--
Please contact me with any questions, special requests!
---
Share this Product
Ultimate Happiness Bracelet
Love my bracelet. And it fit perfectly! 🙂
---